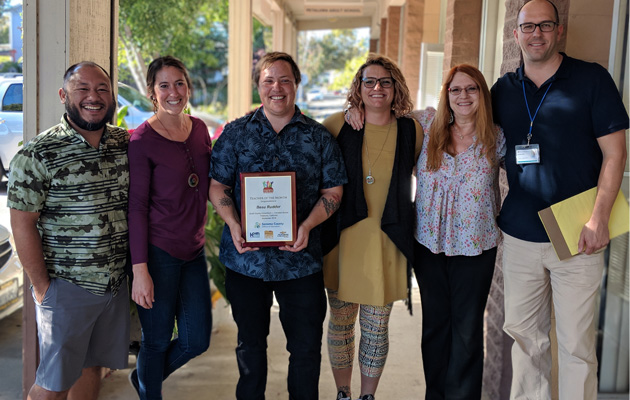 Beau Rudder, a special education teacher with the South County Special Education Consortium, has been named Sonoma County Teacher of the Month for October 2018.
The monthly award honors one of Sonoma County's most outstanding teachers from October through May. It is sponsored by the Sonoma County Office of Education (SCOE), K-HITS 1049, and Community First Credit Union (CFCU), with additional support from Platinum Chevrolet.
"We need high-quality, caring teachers now more than ever to help our students thrive in a complex and ever-changing world," said Steven D. Herrington, Sonoma County Superintendent of Schools. "The Teacher of the Month program this year seeks to honor, support, and thank those teachers."
Enthusiastic nominations described Mr. Rudder as an outstanding teacher whose patience and creativity helps his students with emotional disabilities thrive.
Walking into Beau's classroom, you will find a warm and inviting educational environment," wrote a retired teacher who volunteered in Mr. Rudder's class. "He has created a safe and structured daily schedule that helps to keep his students with emotional challenges on track during their day." She added that Mr. Rudder combines the latest technology with "good old fashioned constant verbal positive feedback" to keep students on track and boost their self esteem.
Melinda Susan, his supervisor, wrote that Mr. Rudder and his team are dedicated to turning things around for his students, many of whom have had a challenging start to their educational careers. "I have personally seen so many changes in his students," she observed. "They not only grow academically, but socially…So many parents tell me that they have seen great changes at home. Their children are once again happy and even cueing them in to 'breathe' when they are stressed."
She added, "Beau understands the ups and downs his students will experience. He is never deterred by this and he never personalizes any behaviors the students may display. This particular class can include some intense behaviors, but he always remains the calm center. He reminds them that they will bounce back and can still have a positive experience for the rest of the day."
Mr. Rudder was surprised with the award at a staff meeting at Petaluma City Schools District Office. His colleagues cheered enthusiastically when his name was announced. Mr. Rudder received a plaque and $400 classroom supply gift card. He expressed surprise and joy at the award.